Post #1 in August's Work and Your Wallet series. While this post is Canada-specific, the same demographics are at play in the USA.
____________________________________________
The bottom line is that if Canada's GDP per capita (in plain English:  how much per person we produce – economically, I mean, not having progeny!) doesn't grow each year (last year we produced 10 cars and 50 shipfulls of wheat and 10 truckloads of lumber;   this year we produced 11 cars and 52 shipfulls of wheat and 12 truckloads of lumber) then we suffer.  You and I suffer.
Bah.  Not suffer, not in relative-to-Guatemala terms.  But we have we don't have as many cars to trade for bright shiny objects like iPads so we make do with fewer iPads.  Or fewer outfits.  Or fewer loaves of bread.
And how do we make sure we keep producing as much as or more than the prior year?   Making those cars and growing the wheat and cutting the lumber requires people.  In HR lingo, labour force.  Or for the high-falutin' car-engineer types, talent pools.
If there's one thing I picked up loud and clear in my 2 years of HR work, and attending a Cdn. Minister's Conference (long story) on the topic, it's that the issue is no longer theoretical.  It is upon us.  Our labour pool is just beginning to start its Big Shrink. It scared the crap outta me, truth be told.
**Let me guess.  At this point you are:  <  rolls eyes >    #I'vebeenhearingaboutthisforever. Right? **
Well so have I, and consider this.  The fact that you haven't yet experienced it, haven't felt it doesn't mean it isn't happening.  For one thing, it's only just starting.  The first baby boomer cohort has just left the workforce.  No problem for year one.   But next year, it's going to happen again.   And the next year, it's going to happen again.   We'll start to feel it then.   And in 2015 it will happen again.   My prediction is that 2015 is The Year when all doubt will be removed from our minds about the impact of the Boomer's leaving.
And as there are fewer people making the cars, growing the grain and sawing the lumber, our GDP per capita shrinks.
And when we're at that point, what's the impact on your wallet?
If you are not a baby-boomer, you will not lack for jobs in Canada and you should be able to negotiate the best salaries of your life.   For the first time in living memory, job-seekers will hold the bargaining power, structurally.
You will pay the most taxes of your life to support the retired and the elderly who will continue to have high expectations, especially healthcare.  At the same time, services you use from the government will be reduced.  Put crassly:  it will pretty much suck.  The retirees will still hold the votes and have the time to be activists. Expect their wants to win, and yours to take a back seat.
It will cost an arm and a leg, even more than currently, for skilled labour.  My advice?  Learn to fix your own stuff!
Take a look at the graphs below.   See the big clump that starts red|yellow|green|blue ? Take a look at how it's slowly been moving towards the older age and retirement.  Slowly, but surely.
I took the following graphics from NationMaster, which I gather is a sort of Wikipedia.
Canada Population Pyramid for 2000
Age and sex distribution for the year 2000: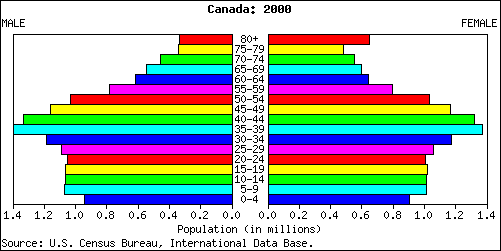 Canada Population Pyramid for 2003
Age and sex distribution for the year 2003: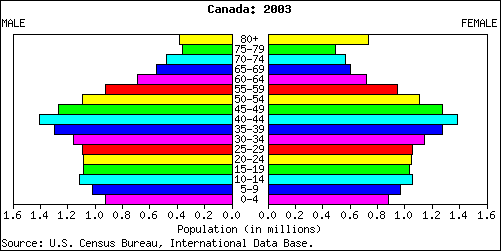 Canada Population Pyramid for 2005
Age and sex distribution for the year 2005: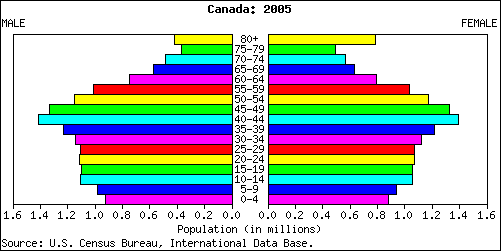 Canada Population Pyramid for 2010
Age and sex distribution for the year 2010: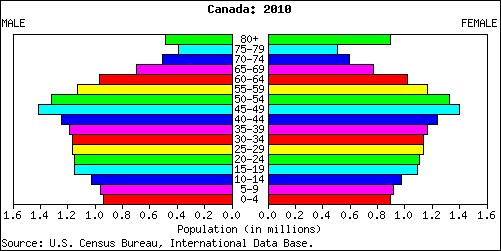 Canada Population Pyramid for 2020
Predicted age and sex distribution for the year 2020: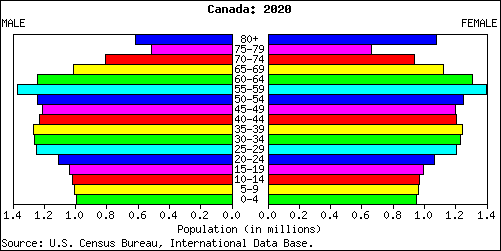 Photo Credit:  Trevor Blake